Taking care of the books, so you can take care of business!

Copyright 2012: Muchmore Accounting Inc. | Accountant Jacksonville | 

Patriot Software Certified Advisor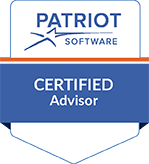 Full Service Payroll

You enter the hours, Patriot does the rest. 

You enter employees work hours online.

Patriot verifies your payroll taxes are withheld and deposited

Patriot files your federal, state, and local payroll tax returns

Free employee portal

Free setup and support

Free direct deposit

Free 30-day trial

Unlimited number of payroll runs.

But Don't Forget...

Payroll is one of our our specialties, so if you're looking to outsource your payroll, please don't hesitate to contact us for pricing and specifics.